When a 21-year-old takes pole position, a debut race win by nearly five seconds and does it all in only his 20th premier class race, it's difficult to justify awarding the rider of the weekend honour to anyone else. However, Brad Binder (Red Bull KTM Factory Racing) might just have done enough to take it ahead of Petronas Yamaha SRT's Fabio Quartararo.
In his first outing, the 24-year-old impressed everyone inside the MotoGP™ paddock from Friday morning all the way through to Sunday evening. The South African ended up inside the top ten on his first day as a MotoGP™ rider, under two tenths adrift of experienced teammate Pol Espargaro, before then closing the gap to the Spaniard even more on Saturday. Just 0.138 seconds was the difference between 13th on the grid and failing to make it out of Q1 and taking Espargaro's place in Q2, where if he'd have matched his Q1 lap time he would've secured fifth on the grid.
Sunday's effort is what earned Binder the most plaudits, though. His pace was nothing short of phenomenal for a man in his very first premier class Grand Prix. A lap seven run-off at Turn 5 was the key moment of his debut race, but that certainly shouldn't cloud what was otherwise a debut arguably in the same league as Fabio Quartararo or Marc Marquez from the past decade.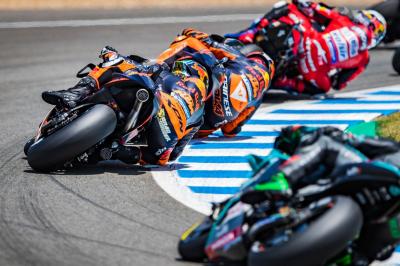 "I think my team said it took me 26 seconds," admitted Binder on how much time his moment at Turn 5 cost him. But after finishing only 29 seconds behind Quartararo and with Maverick Viñales (Monster Energy Yamaha MotoGP) in second 4.6 seconds adrift, plus Andrea Dovizioso (Ducati Team) in third six seconds back, you could argue that mistake prevented him from standing on the Jerez podium. Of course, maths as simple as that in MotoGP™ very rarely is the case in practice, but it certainly highlights the South African's potential.
"I was really happy with how we started," started the 2016 Moto3™ World Champion. "I got a great start and I immediately could see that our package is very, very competitive. I felt really strong in certain parts of the track and it was amazing to be up there with guys I've looked up to all my life. I felt like I had something left in my pocket when I was sitting behind them.
"Unfortunately, I grabbed the front brake a little bit too aggressively and locked up the front wheel and then I tucked the front after that and, to be honest, I'm really lucky my race didn't end there because it should've resulted in a crash. But I managed to keep it up straight and go through the gravel but at Turn 5 there's no way to come back on to the track except for doing a massive loop in the gravel. With the TC [Traction Control] then you literally stand still because with the wheel spinning in the dirt you can't just hook up and go. It took me so long to get out of the gravel and I think my team said it took me 26 seconds because of the run-off.
"After that, I just tried to re-group, settle down into my own pace and try to do the best job possible so I can come back stronger next week. The amount I've learnt is incredible. Just to give you an idea, every single time I go out on track, I come in and I've learnt another three of four things that really help me. It's unbelievable the steps that you make and just to really pick up on small things that end up making such a huge difference.
"The heat is incredible too, on the MotoGP bike the heat coming from the bikes in front you, it's hectic. When you're sitting behind people, it feels like it's ten degrees hotter. Today when I was with the guys I felt good and it was lovely to just sit with these guys and see what they were doing. Unfortunately, I messed it up but I'm sure we'll get it right next time."
There's no denying that if Binder can get it right this weekend at the Andalucian Grand Prix, he could get it very right. He's already glued to the tail of teammate Pol Espargaro and, with a handful of usual front-runners absent, he could be primed and ready to spring a South African surprise. One thing is for certain though, MotoGP™ has another star in the form of Binder. The future looks bright for the man from the Rainbow Nation.
Source: motogp.com