Mercedes wrapped up a fifth constructors' championship but victory should have been Verstappen's after he was punted out of the lead when Ocon attempted to un-lap himself Lewis Hamilton said in Mexico that he still had some winning to do, to clinch his Mercedes team their world championship for constructors to go with the drivers' title that he had just clinched.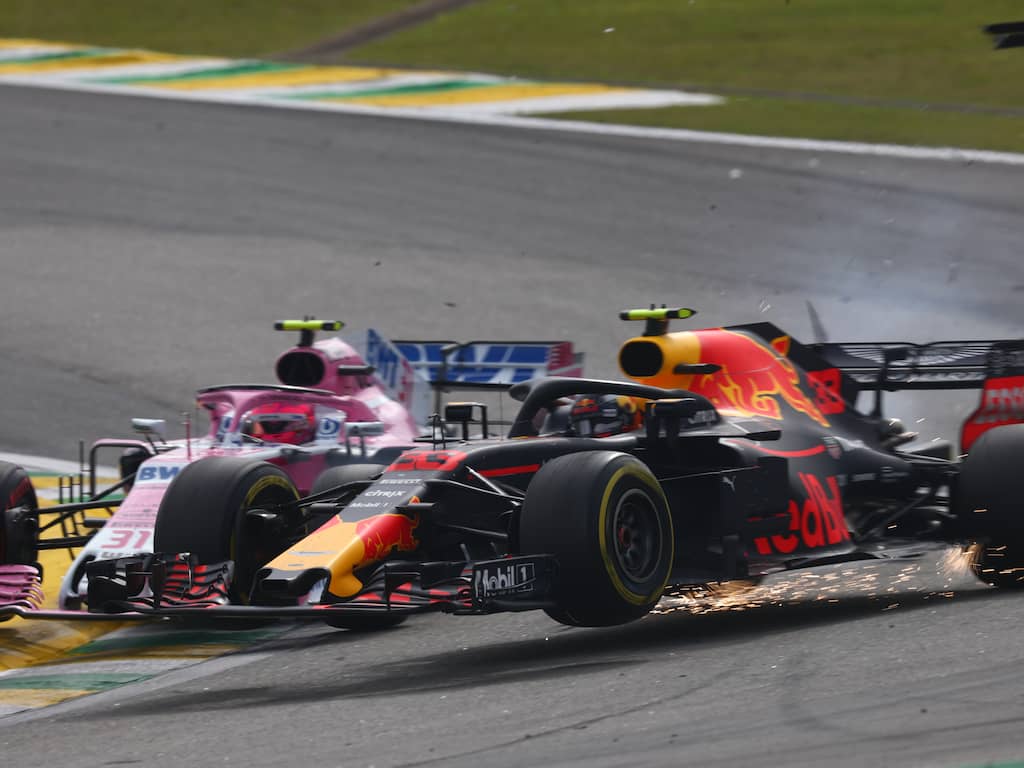 Oc0n takes out Verstappen (Getty Images)
And win he did in Brazil, for the 72nd time in his career, the 10th time this season, and for the 49th time since the turbo-hybrid cars were introduced in 2014. That's 50 per cent of those races won by one man…
But this one was a real cliffhanger, in which a degree of luck played a big part in Mercedes' success (though not necessarily Hamilton's as he drove the wheels off his car) after Max Verstappen's comfortable lead disappeared on the 44th lap after a controversial collision between the Dutchman's Red Bull and backmarker Esteban Ocon's Force India. The Frenchman, a bitter rival of Verstappen's in their Formula 3 days, had been lapped but as Verstappen turned into the first corner, Ocon got a strong tow and pulled out to the right from behind him and ran round the outside of him. They thus arrived at the second part of the corner, which is named after the late Ayrton Senna, side by side. The pink DUO car was alongside the blue Red Bull, and as Verstappen turned in contact was made and both spun.
Later the stewards gave Ocon a 10-second penalty, by which time the Dutchman was pushing as hard as he could to catch Hamilton and retrieve the victory.
Verstappen went on to tell reporters, "I hope I don't find him in the paddock". But he did, and he and the Frenchman were investigated for an "act prejudicial to the interests of any Competition or to the interests of motorsport generally," and "physical contact with another competitor in the FIA garage." Video clearly showed Verstappen pushing Ocon in the chest on three occasions, and after being hauled in front of the stewards the 21-year-old must now serve two days of public service at the FIA's request within the next six months.
Adding spice to it all on track was Mercedes' second championship quest, and the fact that while Verstappen was on the soft Pirelli tyre from the 35th lap onwards after doing a long opening stint on the supersofts, Hamilton had stopped as early as the 19th lap to switch his supersofts for mediums, the hardest of the three compounds. And he was struggling badly as they got closer to the end of their life.
From 5.4s on the 45th lap, Verstappen cut the gap bit by bit as they fought through intransigent backmarkers – who included Fernando Alonso who should have known better and was given a 5s penalty after ignoring blue flags. Now and then Hamilton was able to match Verstappen's lap times, driving out of his skin on his ageing and inferior tyres, but with five laps to run the gap was down to 1.5s.

Verstappen's

 crash allowed Lewis Hamilton to re-take the lead (Getty)
Angered earlier by his team pitting him so early, Hamilton told his crew: "The tyres are losing temperature, I think they're worn out."
But somehow he could keep just enough pace to maintain a gap of 1.4s to take the crucial win.
"That was definitely a very hard race for us!" Hamilton said. "I did get some blistering on the first set of tyres but felt like I was able to just keep Max at bay. But on that hard tyre I was struggling to do the same times as they were. Max came out of the pits within a second, so I knew he would come past, but I also knew that my tyres had to do a very long stint, so I was flat-chat trying to manage the tyres. And my car was short of power for a lap, too, so he came flying by. That wasn't good to see, but I had to keep thinking of the long game.
"I knew that Max was also having to save his tyres, so when I had gone back into the lead after he spun I just gave it everything I could to keep that gap between us. I was constantly talking to the car: 'Keep going, keep going!' And I could see Max in my mirrors, and was doing qualifying laps every lap. I really enjoyed it!"
Verstappen, flushed and stone-faced, made no mention of his off-track altercation with Ocon, but disclosed: "I don't know what to say. I was doing everything well, and then I get taken out while he's being lapped. We are so fast after yesterday, and the car was working better than we had expected, working really well. We had the right strategy with the supersofts for a long stint, then the softs…
"The stewards have given a penalty, so you know whose fault it was. You can say that I had more to lose than him, but we had an incredible car today and I was just trying to do my race. Then there was a car alongside me. What can you do?
"At the end of the day it doesn't matter what penalty he got, I got the penalty of not winning the race. Of course, they have the right to un-lap themselves, but they have to be careful."

Verstappen

 was in no mood to hang around on the podium after the race (Getty)
As if all that wasn't good enough, Kimi Raikkonen just clung to a valiant third place for Ferrari after a canny race which started on softs and ended on mediums, with the Finn under massive pressure at the end from Daniel Ricciardo's soft-shod Red Bull. The Australian battled his way up after a grid penalty left him 10th on the opening lap, and was flying after the red car but could not quite muster the straightline speed to challenge it for the final podium slot.
It was a disappointing day for last year's winner Valtteri Bottas after he put Hamilton under pressure in the opening laps before overtaxing his tyres, falling back, and being called in late for a second pit stop. He at least managed to keep ahead of Sebastian Vettel, whose gamble starting on the soft tyres failed to pay out as he was unable to capitalise on their superior longevity to the faster supersofts. Later, as Raikkonen was flying on mediums after his pit stop, Vettel had the unusual experience of being asked by team boss Maurizio Arrivabene to let his team-mate by, on the 36th lap.
"It's crucial for the race," he was told by his engineer Jock Clear.
He later pitted a second time too, resuming on supersofts on the 53rd lap, but was unable to sustain a swift chase of Bottas and fell back to a distant sixth, 26.9 seconds adrift of Hamilton.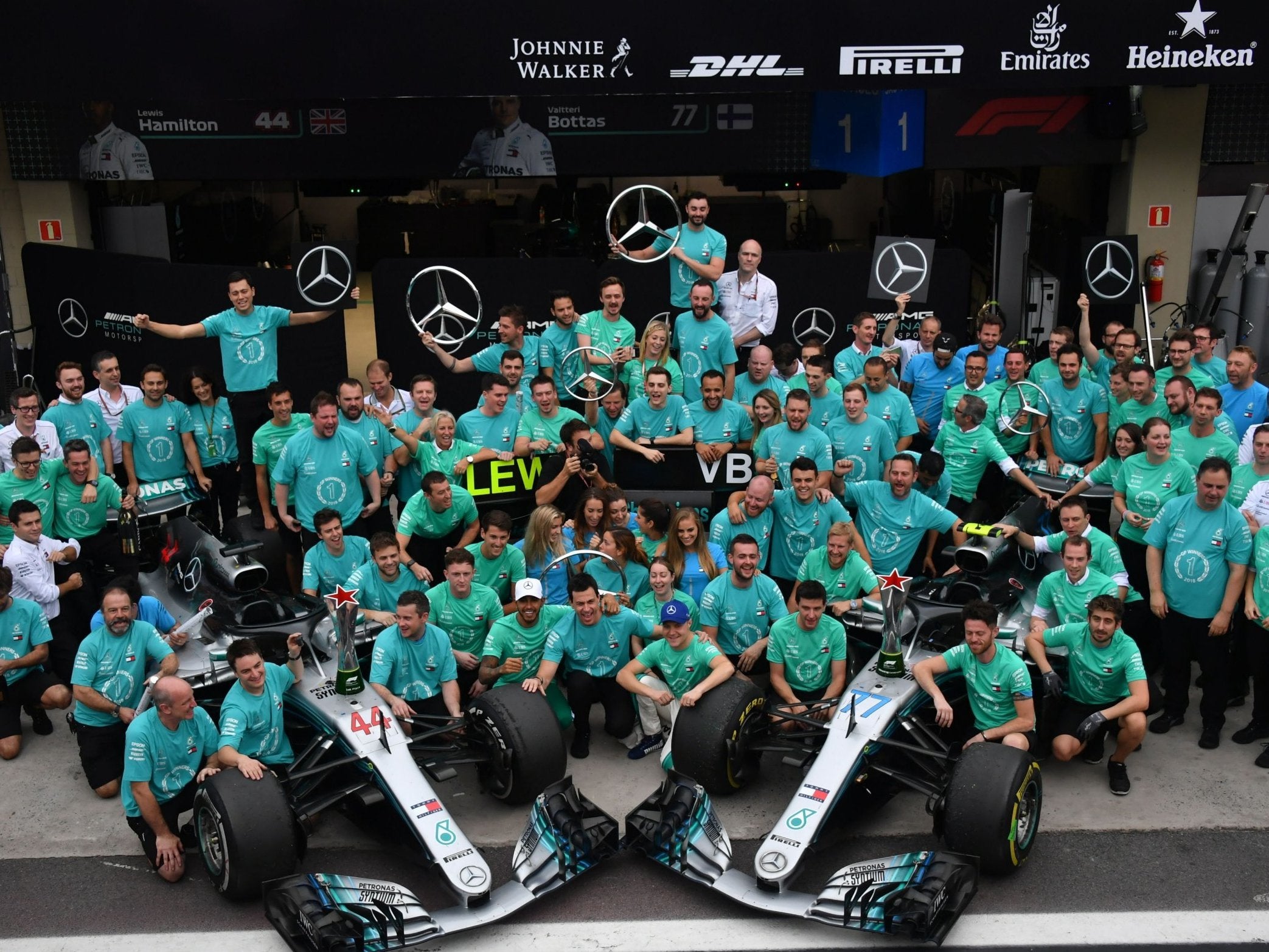 As he hugged his crew and they momentarily fell to the ground when a barrier collapsed, Hamilton said that the explosion of joy had its roots in the fact that they couldn't fully celebrate his success in Mexico because there was still a title to win.
"I came here really focused on that," he beamed. "I wanted to get a win to establish the team as world champions, and there was no better way to do it than the difficult race we had today. It's a great, great moment. We have just won the world championship for constructors for the fifth consecutive time. That's real history in the making for this team."
Source: The Independent