Red Bull have confirmed that they will be rebranded from 2018 as Aston Martin Red Bull Racing in the latest step that could see the manufacturer entering the sport as an independent engine supplier.
The four-time constructor world champions announced on Monday that a new title and innovation partnership has been agreed between the two companies that will also see a brand new advanced performance centre built at Red Bull's base in Milton Keynes.
Aston Martin president and chief executive officer, Andy Palmer, said that moving into Formula One remains a possible future venture for the sportscar makers, although he stressed that the "right environment" would need to be created that would prevent costs from spiralling out of control.
"Title partnership is the next logical step for our Innovation Partnership with Red Bull Racing," Palmer said in a statement.
"We are enjoying the global brand awareness that a revitalised Formula One provides. The power unit discussions (in Formula One) are of interest to us, but only if the circumstances are right. We are not about to enter an engine war with no restrictions in cost or dynamometer hours but we believe that if the FIA can create the right environment we would be interested in getting involved."
Both Aston Martin and Porsche have considered supplying power units to F1 teams, with the likes of Red Bull and Williams offering attractive options for engine manufacturers given their non-factory backed status.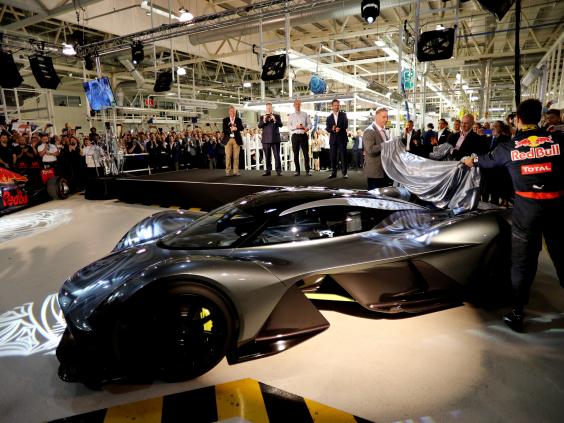 Red Bull team principal, Christian Horner, heralded the announcement as the latest chapter of their "pioneering project" that stems from the Aston Martin Valkyrie that will be built for 2018, with customers starting to receive the F1-inspired Hyper Car from the following year.
"Our Innovation Partnership with Aston Martin has been a pioneering project from day one," Horner said. "Having conceived and created the remarkably successful Aston Martin Valkyrie together in 2016, we extended our relationship this year and are now delighted to further strengthen the partnership and see the team competing as Aston Martin Red Bull Racing in 2018.
"In addition, more than 100 Aston Martin staff will service the new Advanced Performance Centre on our campus here in Milton Keynes and it will allow us to collaborate further with Aston Martin on special, equally innovative, new projects."
The new centre will create around 110 new jobs, with Aston Martin's design and engineering personnel taking up permanent residence in the Red Bull base. It will also see the introduction of Aston Martin branding made visible on the car from next season, which both Daniel Ricciardo and Max Verstappen will drive with their deals due to run until the end of the season.