GSM Flamingo V8
Bob van Niekerk, Willie Meissner and Verster de Wit were the most innovative and creative engineers who had vision with a purpose and not slow on trends in the world of sports and GT cars.
It all started with the GSM Darts in the mid-fifties. They created one of the most effective, practical and functional sports cars which were produced in England and South Africa. The GSM Darts were just what South Africa needed, easy to repair and most effective sports and racing car. In their day they could compete on any platform and won many racing events in Europe and South Africa.
In various engine configurations they won every long-distance race in South Africa. The 9 Hour (Grand Central), the 6 Hour (Hesketh), 2 Hour (East London) plus many sports' car championships including the National South African sports car Championship in 1965. Peter Gough being the Champion. They are still winning!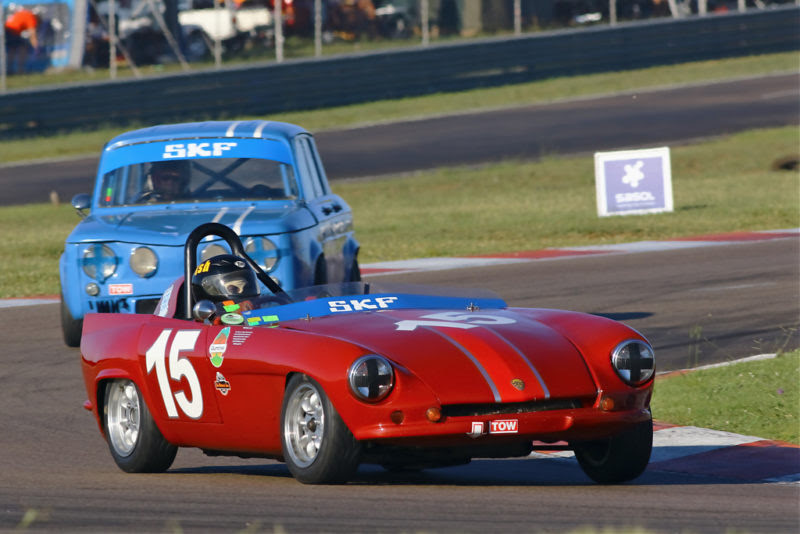 This however is not the end of it. The trio of engineers/ designers where ahead of the times and quick to recognise what the 1960 generation wanted. So, they designed and built the Flamingo GT. The design was provocative and distinguished itself above all others. The Flamingo went into production in 1963 and some 130 were produced (115 Darts were also built in South Africa. In the UK the Dart was known as GSM Delta and built under licence 40-50 cars). In the midst of all this they produced a South Africa provocative GT V8 (about the same time as Carol Shelby built the first AC Cobra). The prototypes was creative and raced in the Hesketh 6 Hour in 1964. The car had a 3.7 litre Ford Fairlane standard engine. After leading the race, it ended up third stuck in top gear for virtually the whole race.
Production however never materialized as by then GSM was part of the Bonuskor Group who being short sighted and seeking immediate return on capital put GSM into liquidation in 1965. Sad that these three great South Africans automotive engineers had to have their initiative terminated by a short-sighted accountant at Bonuskor
Can we imagine what the three would have achieved given free reign. They were in the process of designing light and efficient "bakkies" even before the word was invented and before Toyota entered the bakkie scene. SAD
In order to pay tribute to the GSM Flamingo V8, Trans Africa Racing has built a tribute car in honour of the visions of GSM. Car number 64 is a Flamingo V8, a real Flamingo GT with a Ford 289 motor. It is a magnificent car. It looks right and is very fast/ too fast for some as the shear power gives you leaps of oversteer just as the early Cobras. On treaded (DOT tyres) it is a great privilege to see the car in action.
The post What Might have Been appeared first on Zwartkops Raceway.