Author: Banzai
During the latter part of 2020 Volkwagen unveiled an all-new all-electric SUV. This new model is called the VW ID.4, and we covered it at the time of its launch. The new machine pulled off an impressive feat this past weekend when a production-based ID.4 completed the Mexican 1000 off-road race.

"This was an exciting test of ID.4 technology because no other production-based EV had ever entered this event, let alone completed it," said Scott Keogh, president and CEO of Volkswagen of America. "Congrats to our team for demonstrating that EVs can stand up to extreme environments, and showing how fun electric vehicles can be. The ID.4 could definitely be the Baja Bug for the electric age.
Near standard
The ID.4 is powered by 77 kWh of energy stored in a battery pack below the cabin, which allows a range of up to 520 km, some way off the total race distance, especially at race speeds. A 150 kW electric drive motor is positioned at the rear axle. This unit endows the ID.4 with a 0-to-100 km/h time of 8,5 seconds and a top speed of 160 km/h. The powertrain remained completely unchanged for the race.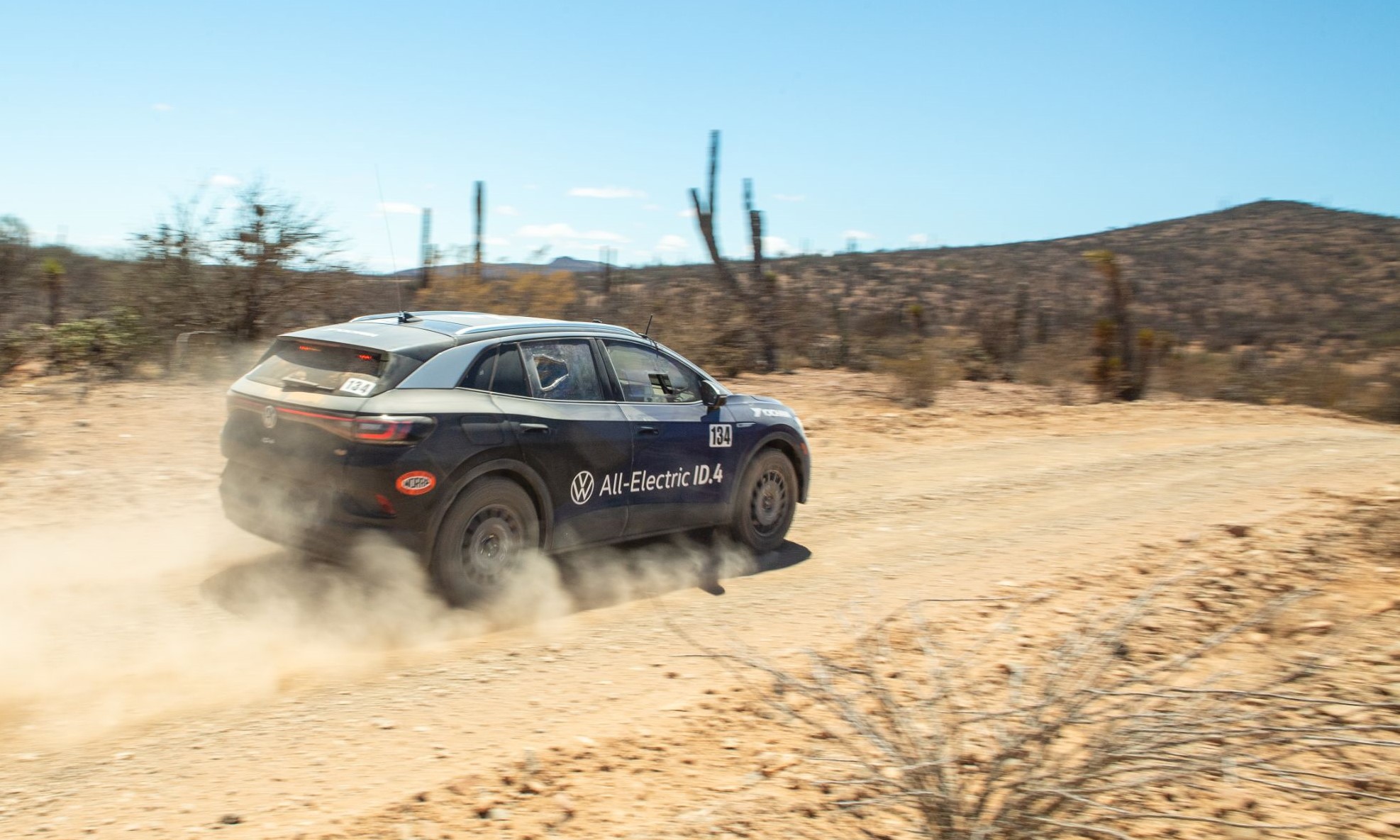 The interior was stripped and modified with a roll cage, racing seats and supplemental screens for data such as battery temperature. The suspension was modified with rally-style coilover struts at all four wheels and tubular lower control arms in the front. The radiator was raised several inches to improve approach angles and cooling capacity, and steel skid plates were added to the undercarriage. Despite the brutal nature of the Mexican peninsula, the only damage suffered by the ID.4 was to the rear bumper.
Charging on the go
Stages on the Mexican 1000 measured between 53 and 270 km, which meant the ID.4 had to be recharged for maximum performance. This was achieved using a portable biofuel-powered generator connected to a 50 kW charger. In some cases the ID.4 was flat-towed (ie on the ground) behind a chase vehicle using regenerative braking to add range.
Professional racer, drifter and stuntman Tanner Foust did the driving duties in the ID.4 that completed the Mexican 1000. The battery powered VW was one of 64 finishers out of 90 cars and trucks entered.
"This was everything we had hoped for," said Foust. "The course was challenging, but the ID.4 was more than up to the tasks we asked of it. This demonstrates the real potential for EV technology to make an impact in all sorts of areas that we have only just begun to explore."
Source: doubleapex.co.za Photo credits: doubleapex.co.za